ANGARAKA (MARS) HOMAM ON ANGARAKA (CHEVVAI) JAYANTHI 29.8.22
Regular price

Sale price

Rs. 999.00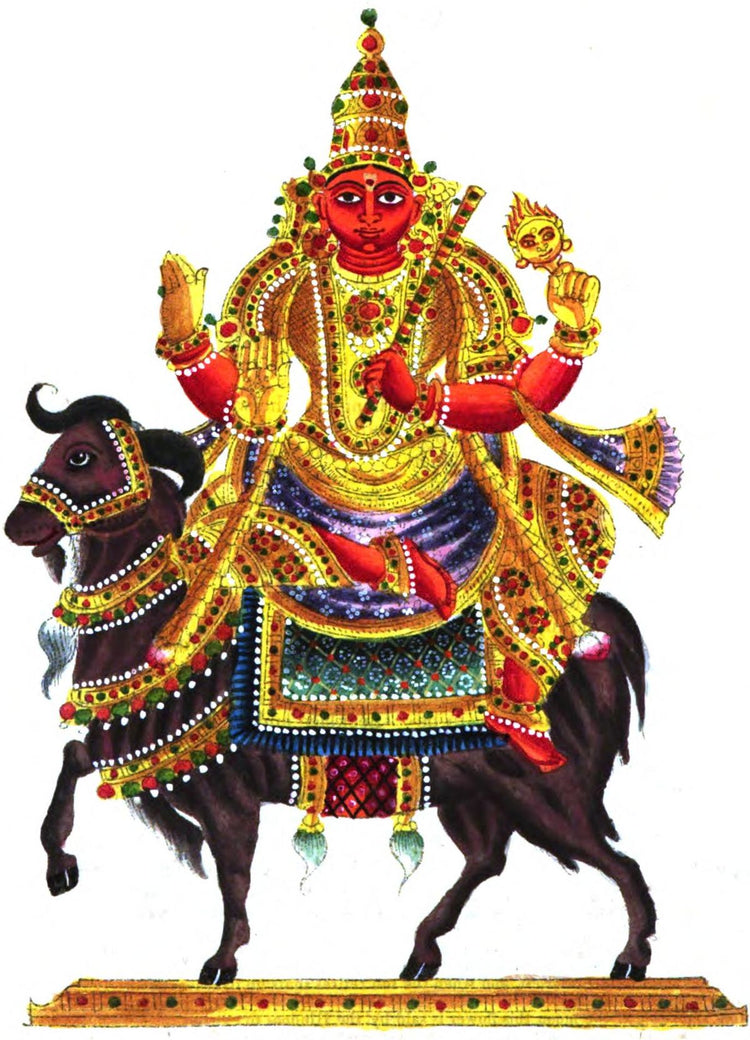 Product Details
ANGARAKA (MARS) HOMAM ON ANGARAKA (CHEVVAI) JAYANTHI 29.8.22
Angaraka's Significance (Mars)



Mars, also known as Angaraka, is a aggressive planet. Planet Mars is associated with initiative and courage in Vedic astrology. It represents fortitude, vitality, and the will to overcome obstacles. Angaraka inspires a person's feelings of enthusiasm and motivation, which in turn motivates them to take action. Angaraka, also known as Bhumi karaka, is the planetary ruler of one's ability to enjoy material possessions. In Angaraka, Lord Muruga reigns supreme.



Angaraka's Repercussions



Puranas explains that when Lord Shiva was separated from Goddess Parvati, he fell into a trance. A drop of sweat fell from his third eye as he was meditating and assumed the appearance of a child on the ground. Bhudevi took the baby in and raised him to be the godlike Angaraka, whose mother is the Earth. Angaraka is a lively planet that goes by several other names, including Chevvai, Kuja, and Bowma. The passionate side of a person's personality might be represented by the fiery planet Mars. An unfavourable placement of Angaraka in your horoscope can lead to various types of debt (credit card, medical, mortgage, etc.), illness, and interpersonal conflicts. When Mars is in a good position in one's horoscope, it can bestow traits like fortitude, recuperative powers, and business savvy.




Who Needs to Do an Angaraka Preethi Homam?



Those seeking Angaraka's favour can do well to perform the potent ceremony of Angaraka Preethi Homam. Those who feel the effects of Angaraka as described below are encouraged to do the Angaraka Preethi Homam:

Angaraka Dasa/Bhuddi

There is a problem with the placement of the planet Angaraka in your horoscope.

In your birth chart, the planet Angaraka is in a state of weakness.

Kuja Dosha, also known as the Manglik Dosha, is an astrological imbalance.
Relief from Husband Wife Problems
Relief from Kuja (chevvai) Dosha 
The 
negative 
effects 
of 
Angaraka 
Graha 
are M
itigated 
Eliminates 
Financial 
Obligations 
Offers
Puts 
an 
end 
to 
disagreements 
that 
have 
been 
going 
on 
for 
a 
long 
time.
A 
speedy 
resolution 
to 
the 
judicial 
problems.
Takes 
away 
the 
adversary's 
problems 
and 
causes 
them 
to 
fear 
you
Restores 
one's 
joy 
and/or 
one's 
peace.
PRASADAM : Exclusively Energized Kumkum Prasadam of Angaraka & Angaraka Rakshai (Red Thread 2) to keep it at home or tying it in wrist.  
DO NOT WHATSAPP RECEIPT OR STAR DETAILS-ENTER YOUR PHONE NUMBER WITHOUT FAIL. WHATSAPP OR TELEPHONE SERVICES ARE STRICTLY NOT ALLOWED. PRASADAMS WILL BE SHIPPED WITHIN 7 WORKING DAYS. 

Place: Rudra Parihaar Raksha Centre, 1st Flr, Amarnath Flats, No.4, 126, Lake View Rd, West Mambalam, Chennai, Tamil Nadu 600033
Time : 2:30 PM Onwards
NO DIRECT PARTICIPATION ALLOWED

Pooja Clips can be seen in Live  at https://www.youtube.com/c/amanushyamastrologyremedies.