26.3.23 LAKSHMI PANCHAMI SRI SUKTAM HOMAM
Regular price

Rs. 1,499.00

Regular price

Sale price

Rs. 1,499.00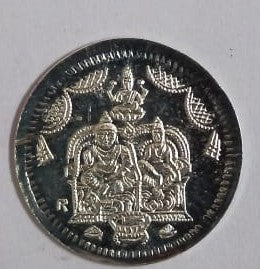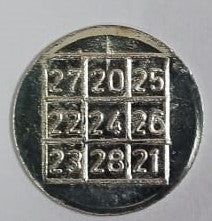 Product Details
26.3.23 LAKSHMI PANCHAMI SRI SUKTAM HOMAM
Mahalakshmi (the Goddess of abundance, wealth, and prosperity) is the consort of Lord Vishnu. Invoking Lakshmi with a homa (Fire Ritual) will bestow wealth and prosperity blessings. For you to reap the benefits, our Vedic Scholars will perform this homa for you as instructed in sacred texts.
 Importance of the Shri Suktam

Sri Suktham is an exquisitely beautiful and graceful Sanskrit hymn. It is included in both Atharva Veda and Rigveda as a supplement. Sri Suktham appears at the end of Rigveda in Parisistabhanga. Numerous Vedic scholars believe that the origins of Sri Suktham predate Rigveda.


A sadhaka uses the Sri Suktha mantra to invoke the Goddess of Wealth, Maha Lakshmi. He will prepare the sacred fire and begin the Sri Suktham by reciting the verse "Aarogyam Bhaskarat Itchath Sriyam Itchath Hutasanath," which translates to "One can attain health by praying to the Sun, and wealth by praying to Goddess Maha Lakshmi through the Sacred Fire." The term 'Sri' refers to the goddess Maha Lakshmi, while 'Suktham' means "well said."

The Value of Reciting Sri Suktam Path

Here are some of Sri Suktam Path's advantages:

Sri Suktham chanting would assist you in overcoming financial difficulties.
This mantra will bestow wealth and prosperity in abundance.
Doshas, malevolent horoscope effects, and your Karmic would vanish.
This mantra brings about peace, happiness, harmony, and good health when chanted.
Negativity and misfortunes can be eliminated.
PRASADAM : Exclusively Energized Lakshmi Kubera Yantra Silver Coin (Within 1 gm Per Set) 
SANKALPAM ENTRIES WILL BE CLOSED BY 25.03.23 MIDNIGHT 12 IST
DO NOT WHATSAPP RECEIPT OR STAR DETAILS-ENTER YOUR PHONE NUMBER WITHOUT FAIL. WHATSAPP OR TELEPHONE SERVICES ARE STRICTLY NOT ALLOWED. PRASADAMS WILL BE SHIPPED WITHIN 7 WORKING DAYS. 

Place: Rudra Parihaar Raksha Centre, 1st Flr, Amarnath Flats, No.4, 126, Lake View Rd, West Mambalam, Chennai, Tamil Nadu 600033
Time :  12:30 PM Onwards
NO DIRECT PARTICIPATION ALLOWED

Pooja Clips can be seen in Live  at https://www.youtube.com/c/amanushyamastrologyremedies.